How To Profit from Social Media and Create a Dominant Real Estate Brand
Things have CHANGED.
People have CHANGED.
People spend more time than ever on their devices. On average, around 10 hours EVERY day! And… they are using multiple devices.
Their ATTENTION is fragmented… How much of this time is spent on Social Media? Surprisingly, ONLY 33% is spent on Social Media. Where do they spend the rest of their time? Everywhere else on the Internet… Looking at CONTENT.
People are now really good at IGNORING things they aren't interested in. The average person sees over 10,000 ads EVERY day! There is more competition for their attention than ever! We've all become really good at screening out the noise.
People spend much more time than ever RESEARCHING everything BEFORE they buy! It used to take 6-7 touches… Now it takes 30-40!
TRUST is harder than ever to EARN!
Firefighters
Pharmacists
Airline Pilots
Nurses
Doctors
Teachers
Veterinarians
Armed Forces
Dentists
Daycare Workers
LEAST Trusted Professions
Psychics
Politicians
Telemarketers
Home Contractors
Real Estate Agents
Lawyers
Taxi Drivers
Mechanics
Journalists
Financial Advisors
Source: Reader's Digest Trust Survey
People don't want to be sold. And now they are expecting that everyone, that they don't already know, is trying to sell them. This makes it really difficult to actually have a conversation with them.
Build Trust
One way to build trust… Let customers know how much it cost to produce your products.
Researchers from Harvard Business School and the University of San Francisco have found that being transparent with your costs is associated with a 21% jump in purchase profitability. Consumers appreciate businesses are transparent when it comes to production costs. This is true even if your costs are less than what they may have thought.
What does all this mean for YOU?
A Lot !!!
We have to change the way that we communicate.
4 Things You Need To Do To Make Money On The Internet
ATTRACT (and tag) prospects
CAPTURE their information and attention
ENGAGE them to create conversations
CONVERT them to a deal
At all four stages we have to be providing valuable content in combination with offers.
The KEY to profiting from Social Media marketing is to consistently CREATE and POST content that drives people back to your Social Hub.
Homes Near Me App
More Cheese and Less Whiskers
One of the reasons that mice are used as test subjects for scientific experiments is that their brains are wired very similarly to our brains. In order to live the longest possible lives, mice spend their entire lives looking for food and trying to avoid being eaten. Put another way, the two prime directives of a mouse are: 1) to get cheese, and 2) to avoid cats.
Mice will gnaw their way through the slightest crack in a brick wall to get to food. Yet, at the slightest sign of a cat's whiskers, they'll immediately run away.
Our prospects are very similar. If we want to find people interested in our products or services, we need to attract them with the right bait. Just like we would use cheese to attract mice, if we want to attract home buyers, we might provide a list of the best homes that are for sale in a particular neighborhood and price range. Or we might provide a free report which tells people how to buy a home with no money down.
However, we have to realize that most people don't want to be sold. Just as the mouse can't run away fast enough from a cat, we have to be very careful not to show our whiskers. The slightest hint that you are going to "sell" them something, will have the same effect on your prospects, even if they are indeed interested in what you have to sell.
The moral of the story is: If you want to attract more customers you need to let them see more cheese and less whiskers. This applies to both your initial advertising and to your follow-up messaging and conversations.
Baby Steps…
We do this by baby-stepping our prospects through the process.
Before we have any contact with a prospect, they are nothing more than Strangers. As a rule, strangers do not trust you PERIOD. Every child knows, you don't talk to strangers. We can't just start a conversation with a stranger. Instead, we need to attract them with something that they want and give them a way to get it without being scared away (remember, more cheese and less whiskers). But we don't just want to attract any stranger. We just want to attract ones that are interested and qualified to purchase what we have to offer. One way to do this would be to run an ad offering a free report, a list of homes or other information that they can find on your website. Ideally, this information would be of interest only to people who are qualified to purchase from you. We want to be compelling and without risk.
When a stranger clicks on our ad (or follows the URL) to our website, they become Visitors. We still know very little about them, but it gives them a chance to start learning about you and what you have to offer. It's our first opportunity to start building trust. However, they are still very easy to scare away. Ideally at this point, we'd like to capture the contact information of the best qualified visitors so that we can start a conversation with them. Usually this is done with some sort of lead capture page.
When a visitor provides us with their contact information (name, phone number, email, etc.), they become Leads. Usually, leads have provided their contact information in exchange for the free report or information that we've promised. However, we need to remember that most of our leads still do not want to talk with us. They don't want to be sold. It is critical that we send the information immediately to start developing trust with our leads. The information and subsequent follow-up messages that we send should be designed to build trust with our leads and keep our information top-of-mind as much as possible.
In many businesses, it is critical that we talk with our leads if we expect to sell them anything. Once your leads are willing to talk with you, we call them Prospects. But even now, we can't just expect our prospects to pick up the phone and call us. They're busy. They're distracted. And they almost certainly haven't yet been persuaded to buy anything from you. Now we need to provide reasons for prospects to act. Reasons for them to talk with you. Reasons for them to order.
In the best case, our prospects eventually develop enough trust in you and your products to become Customers. In most businesses, customers aren't all the same. Some will buy inexpensive starter products. Others will buy more. Some will buy repetitively. Some will develop a long term relationship with you. Others will be gone immediately.
Some customers will be so delighted with the products and services that you provide that they'll become Promoters.
The Greased Chute
Ideally, if your marketing and sales process is setup correctly, the transition from Stranger to Customer (and eventually to Promoter) is like getting on a greased chute. Once they get on, they'll automatically and effortlessly go right to the end.
How you talk with people at each stage of the process is critical in moving them from one stage to the next. We call this Conversational Marketing. And it really is the grease on your chute.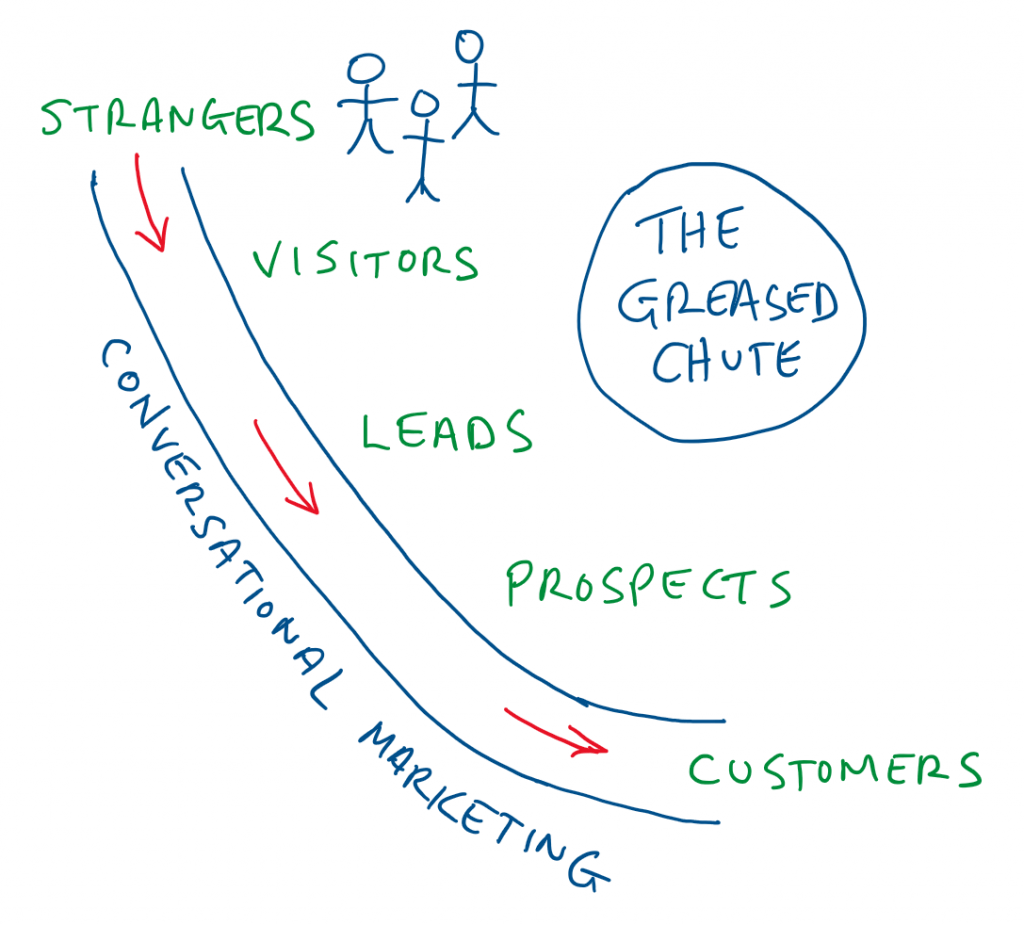 The Rules of Conversational Marketing
Rule: Respond immediately Respond as quickly as possible fully delivering anything you've promised.
Rule: Converse with people using their most responsive medium. Some people love to text. Others like email. A few even prefer to talk. Until you've identified your prospect's preferred method of communication, respond using as many methods as possible. Email, SMS/Text, MMS, Ringless VM, etc. (we call this responding with a "Nudge Stack")
Rule: Build Trust
Rule: Be conversational Your messages should be friendly and straightforward. Start with a greeting.
Rule: End with an ask
Rule: Personalize
Rule: Use open-ended questions to keep the conversation going.
Email Marketing
Keep your emails short. No more than 5 sentences. More like text messages is better.
If you're sending reference material, that's okay, but put your thoughts before the material and keep them short (see point above).
Always include:

A greeting ("Hi!")
Some context
An ask, conclusion or call to action.
Text Messaging
With texting we usually want to keep the conversation going. In many cases, we want more information or are looking for an opportunity to initiate a voice conversation.
Ask questions

Ask open-ended questions that can't be responded to with a YES or NO answer.
Ask the other person to tell you about something. "Tell me what you're looking for in your dream home."
Ask questions when people share things
Ask if you can help. "What can I do to help with that?"

If you're initiating the conversation, be sure to be interesting. The other person will surely be thinking, "What's in it for me to engage in this conversation?"
Send interesting or topical photos or videos.
Avoid dominating the conversation.
Don't push someone to talk about something that they're not interested in. However, be persistent. Sometimes a "Not interested" response is meant to be very topic specific, not that they don't want to engage at all.
Respond in a reasonable amount of time.
MMS
Facebook Messenger
Ringless Voice Mail
Video Meetings